Are you a procrastinator? I know I am and I always have been. Even as a kid, I would put off everything: homework, class projects, cleaning my room. I wish I could say I have changed since then, but nope -- I am still the worst about putting off until tomorrow what I should be doing today.
Sometimes in everyday life, this is OK. However, holidays are not a great time for procrastination. This is why I find myself fighting the crowds at the store at the last minute! So I am super-excited for this awesome ebook
30 Days to Christmas: Procrastinator's Edition excerpt
from one of my favorite sites,
ListPlanIt
.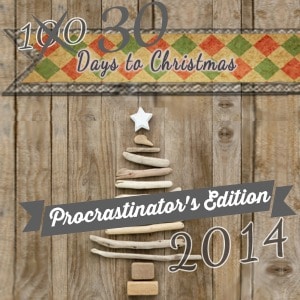 This is an eBook intended for anyone who has a hard time getting started early on Christmas planning (like me!) or just prefers to wait until the holiday season is in full swing. It includes a companion workbook containing 15 interactive lists that help you keep track of gifts, your holiday menu, craft projects, and more. It even has a list to help you keep track of your gift-wrapping supplies (Am I the only one who gets ready to wrap only to find that I am out of tape? I NEED this list!).
I am loving this book. It breaks down what normally could be daunting tasks into manageable days. But it's not just about things to do -- this book reminds you to slow down and enjoy the little things like watching a holiday movie or looking at holiday lights. It even makes time for charity which is what the season is all about!
But my favorite part have to be the lists. I am all about lists, and these are fab. I can keep track of my gift-giving budget, addresses for my card list, and my Christmas cookie ingredients list all in one place.
And right now, if you purchase this ebook, you can get 25% off a membership at ListPlanIt which is an amazing site. If you need lists to keep your life in order, you can find them at ListPlanIt!
Check out an excerpt from
30 Days to Christmas: Procrastinator's Edition here
!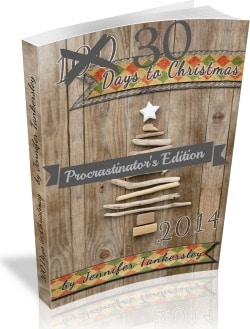 Ready to order? Click here!
Disclosure: This book was provided to me for free for the purpose of review. All opinions are my own. This post contains affiliate links. If you make a purchase through these links, I will receive a small commission.